New Baby Messages & Wishes: What To Write In Baby Shower Cards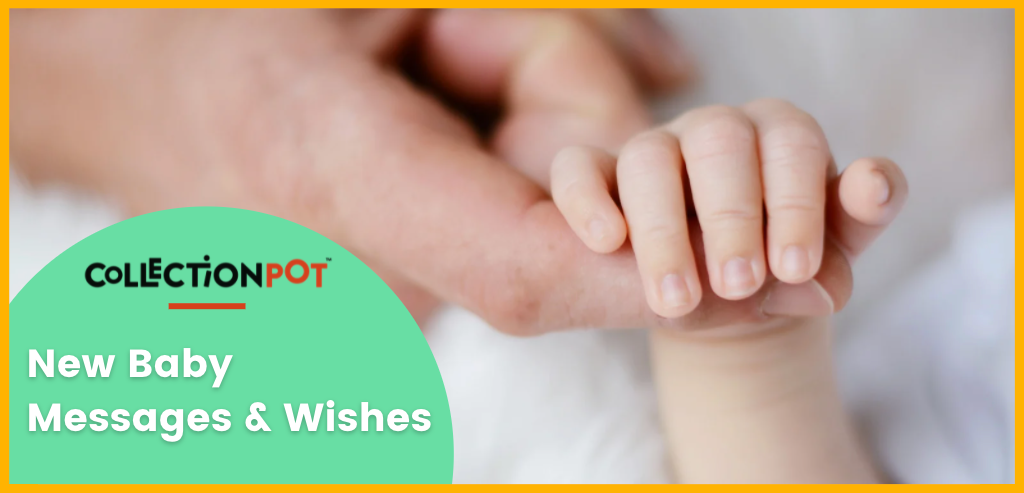 Someone you know has had a baby and now you need to write them some new baby wishes in a card. Due to sleep deprivation, the proud parents might not have a chance to scrutinise every word in-depth. Still, it's nice to convey the right sentiment with a new baby message that feels light and positive! So, if you are struggling over words, take a look at our suggestions! At Collection Pot, we see thousands of messages sent to congratulate the arrival of a new baby, so we have some great ideas you can use. We have a range of options based on whether you know the gender, name or any other details so you can customise each message.
Types Of New Baby Messages
Sentimental & Heartfelt
"What a wonderful family your baby has had the pleasure to come into. (HE/SHE/BABY NAME) couldn't be luckier."
"Giving love and kisses from the (TEAM NAME) to your baby (BOY/GIRL)."
"We can't wait to meet (BABY NAME) and are delighted by your news."
"(NAME), enjoy the baby bubble and treasure every moment. We can't wait to meet (HIM/HER/BABY NAME) soon."
"Congratulations on the birth of your (SON/DAUGHTER). Such wonderful news and we can't wait to see you all soon."
"Congratulations on your new arrival and I hope you are all happy and healthy."
"The start of a new chapter for the (FAMILY SURNAME)'s. Welcome to the world (BABY NAME)."
"I am delighted to hear of the safe arrival of your baby. We can't wait to meet them soon."
Funny Wishes
"(NAME), you've handled (WORK TASK) – so dirty nappies and milk will feel like a breeze!"
"Is it too early for (BABY NAME) to make a start on (WORK TASK?) Then again if he/she is like her mum/dad perhaps better to ask elsewhere! Congratulations and can't wait to see you all soon."
"It's the end of (LOCAL PUB NAME) evenings – but the start of something far more exciting than (ACTIVITY – e.g., rounds of beers/darts evening). And when (BABY NAME) is of age, I can introduce them to those delights!
"Just remember food, sleep and comfort – the three things baby probably wants – and you as well! Keep that drinks cabinet well stocked and may I also recommend Peppa Pig, Series 3? See you soon!"
"Just remember when (BABY NAME) is shouting and it all feels very tricky, it's still a better day than when (BORING WORK TASK) has to be done!"
"Hope you got a sleeper – I hear they are rare! Congratulations."
"I can't profess to know much about babies, but I do know you can smash any task and are the perfect (MAN/WOMAN) for the job!"
"You've spent years looking after everyone at (COMPANY NAME). Now you do it in your own free time as well?! You're made for being a great mum/dad and I can't wait to meet the little one soon."
Examples For Someone You Don't Know Well
"Congratulations on your new baby!"
"Very happy to hear of your new arrival and wishing you and your family the very best."
"Welcome to the world, little one!"
"Congratulations on your new arrival – wishing you all the very best!"
"A brand-new chapter, full of excitement and promise. Congratulations on your new arrival."
"Wishing your family health and happiness."
Now you have some great ways to congratulate a new parent. But why stop at just a card? Make it a real celebration (after all they deserve it!) and set up a Collection Pot? You can add donations and create a lovely balance for them to have as cash, or a gift for mum, dad or baby. It's a great way to show you care, it's free to set up and it takes seconds!