PayPal Money Pools Alternative – Make The Switch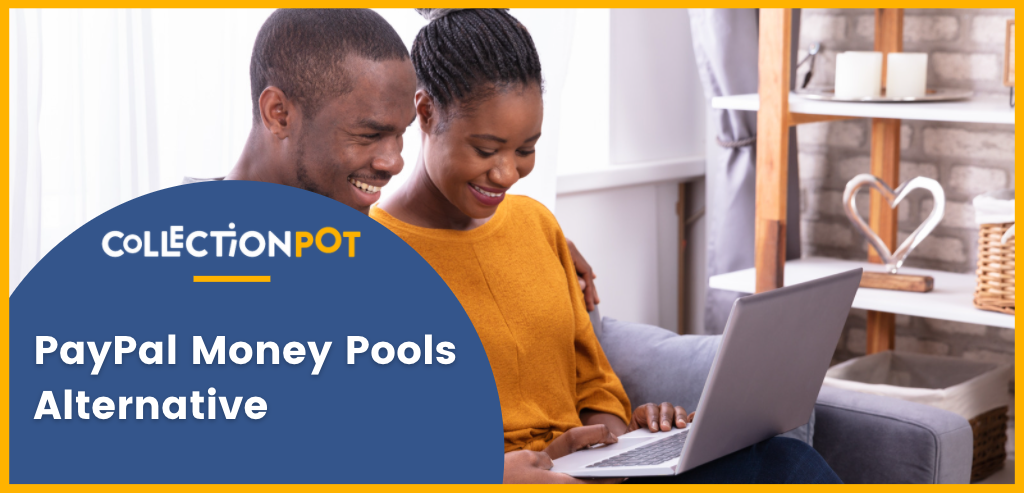 What is PayPal Money Pools?
PayPal Money Pools is a social payment service, that allows a payment made between two people without the trading of cash or bank details. Just like Collection Pot, PayPal Money Pools allowed you to create money pools with friends.
While solely focused on personal collections, and not available to business accounts, this was still one of the original money and fund collection sites launched in 2010. The closure of the service is big news, and a big drawback for anyone who's been collecting for a holiday, experience or long-awaited treat as the service will close in November, with balances automatically transferred to PayPal accounts. If you've got a Money Pool in motion, now is the time to switch.
When is PayPal Money Pools Closing?
As of 30 September 2021 new users will no longer be able to create new PayPal money pools, while existing Money Pools will be shut down from 8 November 2021.
On 8 November 2021, PayPal will remove Money Pools from its mobile app and website and begin transferring outstanding balances to individual's PayPal accounts, with the service finalised on the 15th November 2021. This automatic transfer may take several days to complete so if you need money by or before 8 November 2021, you should withdraw it manually.
Why is PayPal Money Pools closing?
PayPal has cited a desire to change the offering to customers. In an announcement on the closure of PayPal Money Pools, they stated they are "consistently evolving our customer experience to provide more convenient and flexible ways for you to pay and get paid whether online, in-app, or in-store". This ties in with their plans to enable users to use and send Bitcoin, Ethereum, Bitcoin Cash and Litecoin from their PayPal accounts, a move rolling out to USA customers this year.
It could be seen as an unusual move as social payments are on the rise. Other businesses launched now offer specific solutions, such as bill splitting payments, or creating travel funds. As we open up after a number of turbulent months, there is a real appetite to collect funds for events and get-togethers we've all missed out on.
Collection Pot sits as a fund-raising platform that can cater to every need, without the distinctions between causes. Raising funds and collecting funds for charitable events, business interactions, holidays, anniversaries, trips and experiences as well as gifts for friends and family are all possible with Collection Pot.
However, the move for the eCommerce giant into cryptocurrency is probably right for them. According to Checkout.com's report, 80% of customers expect to be able to pay using new payment methods such as Buy Now Pay Later, cryptocurrency and digital wallets. Driving such changes, marketing them and delivering a secure gold standard service will take time and effort.
Who will be affected by PayPal Money Pools closing?
Every user, new and existing will no longer be able to use Money Pools from 8 November 2021. Now is the time to move your balance and withdraw your funds manually. If you wait, this will be done automatically, but it could take a few days to reach you. If you have multiple contributors, ensure you get all the details of their contributions before the service closes!
Are there better alternatives to PayPal Money Pools?
We would absolutely suggest that Money Pools users will be even happier collecting through Collection Pot. Here's why.
PayPal Money Pools had a 30-day maximum expiry date. Collection Pot has no expiry date so you can make long term fund collections for all sorts of reasons.
Every contributor to PayPal Money Pools needed a PayPal account. With Collection Pot, anyone can contribute in seconds.
PayPal Pools was unavailable for business accounts. With Collection Pot, there's no distinction. Collect for a business event, a colleague, or a new baby on one Collection pot platform.
Many of the great features of PayPal Money Pools, such as the ability for contributors to remain anonymous are all available on Collection Pot.
PayPal collections directed funds straight to PayPal accounts and wallets. With Collection Pot, you can make a collection for someone and transfer the balance to a bank account of your choice, or to a gift card.
The customisation available is even better with Collection Pot! Use emojis and images in your message wall and create an experience beyond cash donations. Share images and ideas, links and memes.
There have also been reported issues with users transferring money and converting currencies
PayPal Money Pools is closing – here's what to do!
Here's your checklist
Ensure you alert all contributors – send them this article!
Gather all the details of who has contributed so you have it safely backed up
Save any images you used to set up your Money Pool to use again
Start a manual transfer straight away and beat the rush
Set up a free Pot at Collection Pot
Start collecting – and having even more fun!